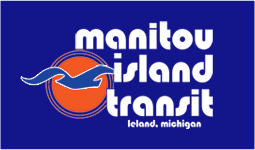 About Manitou Island Transit
Manitou Island Transit is the ferry company that brings visitors back and forth from Leland, MI, to both the North and South Manitou Islands. They also offer shoreline cruises at Sunset along the Good Harbor. While both islands offer pristine Northern Michigan natural beauty, hiking, and camping, each island is a little unique.
The ferry company offers day trips to South Manitou. You can take the ferry over in the morning, enjoy the day exploring the island, and then head back in the late afternoon. If you do a day trip, we recommend ordering up a sandwich from the Cheese Shanty in Fishtown for your picnic lunch.
There is an old-growth Cedar forest on the island. They are impressive and large, but not as large as the Redwoods out West. If this is on your agenda, you need to hustle if you want to catch the evening ferry. It will take you the entire day to walk there and back.
For a more leisurely experience, you can take a hay ride around the island with a guide. They will share lots of historical facts and points of interest around the island.
There is also a historic village and lighthouse to explore near the ferry docks.
The ferry only goes to North Manitou once per day. This experience is meant for backpackers and hikers, folks that plan to spend the night. There are no stores for provisions. You'll need to pack in your own food provisions. North Manitou Island is wilder and larger than its brother to the south. There are some historical structures and a ranger station near the ferry dock, and a well-established trail system, but the rest of the island is wild.
Whichever island you visit, bring plenty of water, sunscreen, and bug spray. Plan on booking your trip early seats fill up, and reservations are recommended.